Bail set at $25,000
:
Alaska--A 25-year-old Fairbanks man has been arrested after police say he had been trading child pornography online.
Drew Wherry, a soldier stationed at Fort Wainwright, was apprehended by investigators on Friday.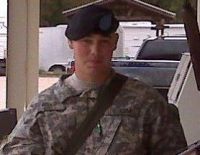 Wherry has since been indicted on 21 counts of possession of child pornography and one count of distributing child pornography.
UPDATE: Wherry pleads guilty, receives 3 years.