Police in the state of California say a 47-year-old El Dorado Hills woman was brutally killed by both her 14-year-old daughter and her daughter's 19-year-old boyfriend.
Investigators are currently searching for Tylar Marie Witt, and Steven "Boston" Paul Colver after they believe the two of them murdered 47-year-old Joanne M. Witt, who's lifeless body was found on Monday while police were conducting a welfare check.
Colver, who was often seen at Witt's home smoking cigarettes and often dressed in a trench coat by neighbors, is believed to be in the San Fransisco Bay area with Tylar.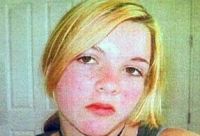 MySpace profile of: Tylar Marie Witt (Click above photo)
According to ABC affiliate KXTV
, detectives had previously paid a visit to Witt's residence on two separate occasions in past several months. One of the incidents had purportedly involved a report of a sexual assault.
Besides the above MySpace profile, Steven Colver (a shift leader at
Rubio's Mexican Grill
) also maintained another one found
here
as well as a Facebook located
here
.
Interestingly, Tylar writes on MySpace that one of her hero's had been her mother, Joanne, because she "don't have a dad".
For those with sensitive eyes, I'll go ahead and replace the F-Bomb with the more family friendly word, "Banana".
"Do you think it's that terrible i want to be with u??? can u really stand there acting like my banana father and tell me i have to be a big girl and not see u or talk to u... wat about hold u or kiss u huh??? or maybe i just shouldn't talk t u... never call u on a friends phone... never text u out of insanity!!! wat if i just left u alone??? would u be happy then u son of a bitch!!! no.... no u wouldn't be happy!!! cz ur never satisfied!!! if i left u alone ud make me feel bad for not talking to u wen thats wat u say u want!!! and if i want to see u becz i miss u and i love u and i feel like the lonliest ive ever felt then u get on ur banana high horse and tell me its wrong!!! dnt banana tell me that loving u is wrong and if the way i do it is wrong then BANANA ALL OF U WHO THINK IT!!!!! ill leave u alone... wont call u to hear ur voice... or ur laugh... or ur irritated and aggitated voice that cant say no without getting pissed!"
And for those already pissed off English majors out there:
"i wont text u just to talk... or ask u y u love me... or to fight with u cz apparently ive still done something wrong! i wont ask to c u... to kiss u... to forget the world wen u hold me... OR TO GET INTO SCREAMING FIGHTS WITH U OVER STUPID SHIT U TAKE WRONG AND GUILT TRIP ME AND ACT LIKE MY BANANA FATHER!!! TALK DOWN TO ME LIKE IM AN IMBICILE OR A 5 YEAR OLD WHO DOESNT BANANA UNDERSTAND!!! I GET IT OK!!! I DO... im just... im crying everyday.... i stay up late so i can sleep late in the mornings... so i can dream of u all the longer... and im sitting in this chair wanting to rip your head off!!! and wanting to hold u and kiss u and lay with u forever... i dnt get upset with u wen we cnt be together... i get mad at everyone else... every other reason i cant see u... thats wat i get mad at... thats y i hang up... and wen i hang up... the only thing i want most in the world is for u to call me back strait away and tell me u love me... with no "buts" or "i dont thinks u understand" and my least favorite "Ty (big sigh) u have to understand that we cant be doing this... i cant see u all the time... u cant be calling me on ur phone..." blah blah blah... DONT U THINK I KNOW THAT!!!"
Anyway, there's actually a lot more, as provided by the link above.
I'm really beginning to believe that the next generation of parents should actually consider bringing the paddle back and maybe the U.S. government should probably even reinstate the draft.
Otherwise, who knows?
Twenty years from now we all could be getting a real ass kicking soon...

Tyler Witt also maintained another MySpace account found
here
. However that one is set to private and hasn't been logged in since February.
UPDATE
: Colver & Witt arrested.
UPDATE II: It looks as if the profiles of both suspects have since been deleted. However, I went ahead and archived it so it's still available for public viewing.
UPDATE III
: Suicide note found in teen's hotel room.
UPDATE IV
: Two will be tried for murdering Joanne.