Georgia--A 25-year-old children's director at the
Concord Baptist Church
in Clermont has been arrested after allegedly molesting an 8-year-old.
Jacob Alan Morris, of Gainesville, is alleged to have molested the young girl at both the church and her residence between early 2007 and 2008.
Interestingly, Jacob or "Jake" as he likes to be called, is the son of one of the pastors at the church, which houses an impressive membership of over 1,000 people.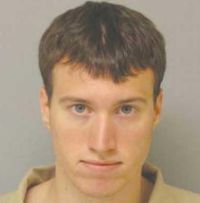 Morris is also a substitute teacher who was recently employed and then let go by the Hall County school system following the allegations.

The 25-year-old has been charged with two counts of child molestation, aggravated child molestation, aggravated sodomy, and aggravated sexual battery.