A Nevada man has been arrested by police in the state of Virginia after they say he took a 2,500 mile journey to meet a 13-year-old girl he had met MySpace.
Jesse Lee Wise, 25, of Elks, pitched a tent in a wooded area next to a Chesapeake library, not far the intended victim's home and proceeded to send her sexually explicit messages via a computer at the library.
Wise had actually been conversing with the girl long before his arrival in Chesapeake, a federal agent told
The Virginian-Pilot
that the two had been conversing with each for well over a year.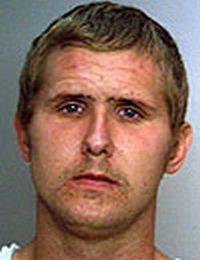 When the conversations suddenly turned sexual in May, the unidentified female told her mother about the relationship who in turn contacted police.
Police then took over the girl's MySpace account and procceded to correspond with Wise.
During a search of his tent, inestigators say they found new and used condoms, a ring and two Greyhound bus tickets (one for him and one for her) to Airzona, where Wise had also once lived.