A Bangor, Maine man has been taken into custody by police on accusations that he brutally murdered a 19-year-old woman.
Colin Koehler, 34, was taken from his home in Bangor after police used tear gas to get him out of his downtown apartment after refusing to open the door.
Koehler is accused of murdering Holly Boutilier of Old Town, whose lifeless body was found lying in a shack hidden amongst trees along the Penobscot River.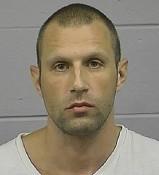 Koehler wrote on his above MySpace profile that he had moved to the state of Maine to be closer to his parents and for free health care.
Anyway, the
Bangor Daily News
has a lot more information on both this case and the suspects MySpace account.