Police in the state of New Jersey arrested a 74-year-old man last week on charges of distributing child pornography over the Internet.
Derl Howard Maurer, of Phillipsburg, is alleged to have mailed various videos & pictures of young children engaged in sexual acts to an undercover police officer.
Authorities say the incident happened in July.
According to a criminal complaint, Maurer was also found to in possession of the aformentioned material.
If convicted on all charges, Maurer could face up to more than 10 years in prison.
Besides the below MySpace profile, Maurer is pretty much all over the Internet using the screen name, "
dhmaurer
."
For a 74-year-old he's pretty with it, too bad he's also a sick bastard to go along with that.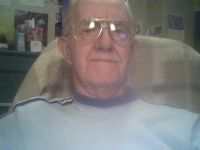 On several different websites he writes that he is both bisexual and married and on several other sites in which I cannot list because of the content, Maurer states that he is interested in sexual meetings with men, women, couples and even transsexual's.
Numerous pictures can also be found of him either naked or masturbating on the Internet as well as inviting other male's to "cam2cam" with him.
Aren't you glad he's not your grandfather kids?
And even though the suspect was actually born on January, 6, 1935 ages also vary for him, with some being as "young" as 61.
E-mail addresses associated with the Maurer include, dhmaurer6@hotmail.com & demau_65@yahoo.com.
I'd really list a lot more, but I just cannot do it.
I'm also not quite sure, but he might be the oldest person profiled on here, although I do know I have also posted several other suspects well into their 70's in the past.
Regardless, let's just say Maurer is definitely one dirty old man and I'm glad he's finally been put to a stop.