A Florida man has been apprehended by authorities after they say he
possessed more than 1,000 images on his computer of children engaged in sexual activity
.
Keith Riley Griffin, 48, of Jensen Beach, told detectives that his cat was actually the main culprit of the situation. You see, every time he would leave the room where the computer was his pervy-feline would jump on the keyboard thus creating the disgusting mess.
Upon arriving back to his computer, he would then notice "strange material", according to a release.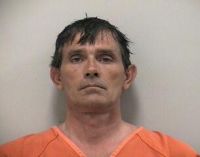 Of course, if this were true, Mr. Griffin has a really smart (albeit a troubling sick) cat. Perhaps the furry demon was just attempting to look for kitty porn instead, something I'm sure that might sound quite plausible in Mr. Griffin's weird head.

I actually had a hell of a time confirming the above MySpace profile of Keith Griffin. I got on his MySpace in seconds, but the pictures he placed in his profile looked quite a lot different from the one provided by the Martin County Sheriff's Office.
I thought it was the same man, but I most definitely couldn't put him up here unless I was certain.
So from going to his MySpace, I jumped on his personal (kinda) websites, found
here
,
here
and
here
, which lead me to his favorite username, "
krg366
", @ various addresses. He sometimes uses "keith366", but that's neither here nor there.
That took me nowhere other than a few post he made on several now dead message boards and a few half-filled out profiles scattered about like ghost across the web.
An hour of useless searching later, I came across
his profile on match.com
. That set me back even more because his picture also looked nothing like the aforementioned mugshot. But that also had to have been Mr. Griffin.
I wasn't wrong...
Then it occured me to that the picture on match looked nothing like the one on his MySpace. The picture on match is a pretty good one, so if it were him (and it probably was at some point) why wouldn't he just stick in on his MySpace?
Do you see how my mind works people? Paranoid, yes...but at the same time cautious.
Anyway, reading more and more about his online
get rich selling juice
scheme just frustrated the hell out of me even more.
I did come across something completely random though, apparently Mr. Griffin was
nearly stabbed to death with a screwdriver
in a restroom at a Jensen City Taco Bell earlier in April. He claims it was him anyway, in the forum portion of the article.
He writes the following:
"I'm the guy he was tring to stab......! Whats is ironic about this whole thing is, I work for sears and I was wearing my shirt that says sears on it."
The Sears part helped a bit, because Keith Riley Griffin was arrested by an officer at his place of employment (Sears) on August 5th.
Why be so ashamed to admit being employed by that company just to pass yourself off as "rich" to total strangers though?
A thought troubling to me. Of course had my brain been functioning normally at the time, the answer would have been an obvious one:
How could someone who allegedly possessed naked pictures of little kids be honest about anything in the first place? I mean really, the guy told an officer that his cat found the images and proceeded to download all 1,000 + pictures individually named I'm sure too.
Anyway, searching a bit further I found his WAYN
here
, but that also lead me to nothing of any importance, just more bs.
What I needed was a birthdate, October 2nd 1960 and it was nowhere to be found. I already had his name, age, location and a picture (the one's on his MySpace apparently were taken in 2006).
And then it hit me...Facebook.
That should have been the second place I could have searched and I usually do. I guess if you pile yourself up with garbage after garbage kids, it's really hard to get out without getting lost.
I do it all the time, so I should have known better.
Regardless, using one of his many e-mail addresses, I came up with the username, "
Tracker Gryphon
" which ultimately led me to Keith Griffin, born October 2nd. 1960.
So why am I writing all this?
I have no idea...
Bond was set at $250,000.