Texas state police have arrested a 27-year-old woman on charges that she solicited sex from a 15-year-old boy.
Latesha Perry, of Ennis, is alleged by police to have sent the teen naked pictures of herself to him as well as various sexual related text messages.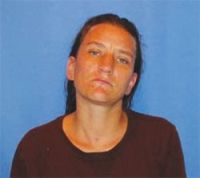 These items were purportedly found by officers while investigation Perry.

The single mother of two, who calls herself "the crazy bitch" on her above MySpace profile, also maintained several other social networking including myYearbook & fubar.