Parent tips off police
:
A 56-year-old Mississippi school teacher has been arrested after allegedly traveling to the state of Florida to have sex with a 15-year-old girl that he had met using MySpace.
Police say the case originally began after they had received a phone call from a concerned parent who told them that her 16-year-old daughter and a 56-year-old man had sex with each other after the two had previously met on Myspace.
That man the mother was referring to was identified as Meridian resident, Clifford "Scooter" Holloway, a 7th & 8th grade science and Physical Education teacher.
Anyway, concerned investigators quickly set up a trap for Mr. Holloway and posed as a 15-year-old Florida girl on MySpace.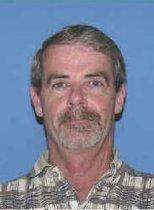 The "girl" ultimately caught the eye of old man Holloway who subsequently drove (once again) to the state of Florida to meet an underage girl for sex. This time however the outcome was a little different as police were anxiously waiting for him at the motel.

He has been charged with two counts of sexual assault on a child, two counts of transmitting pornography to a minor and one count of traveling to have sex with a minor.

Besides the above MySpace profile, Holloway also maintained a Facebook account found here.
UPDATE: Holloway sentenced for having sex with girl.