Pennsylvania--A 43-year-old girl's softball coach has been arrested after he allegedly
solicited sex online from someone whom he believed to be a 13-year-old girl
.
Chad Randall Keefer, of Greencastle, is said to have contacted the young teenager (who was really an undercover police officer) and reportedly asked her if she was interested in meeting him so they could "play". By "play", Keefer meant that he was interested in touching the young child along with "whatever else" she would allow.
After corresponding for some time with the agent as well as encouraging her to masturbate, Keefer purportedly then arranged to meet the girl at her home where he planned on taking her to a local hotel where they could get drunk and engage in sexual activity with each other.
He was arrested at the predetermined location where officers say they recovered a digital camera, some wine coolers and a cell phone.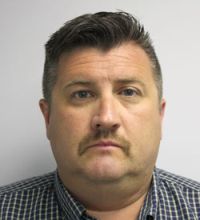 Keefer, who also is a member of the "Praise Team" for the First United Methodist Church of Mercersburg, is currently residing at the beautiful York County Prison.

He is also unfortunately married with two children.

If your associated with the Harrisburg network on Facebook you can also view his profile by clicking here.