A 19-year-old Iowa woman has been arrested by police after they say she "had performed multiple sex acts" with two 12-year-old boys.
Kourtney Joy Babcock, of Yarmouth, was taken into custody on Wednesday following an investigation that started sometime in July.
Babcock, who is currently residing in jail, has been charged with three counts of third-degree sexual abuse.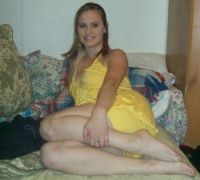 Besides her above MySpace profile Babcock also maintained an account over on Facebook found here.

Thanks to our awesome contributor Katze for both the article and above profiles.
UPDATE: Blogger Rob Taylor uncovers recent disturbing pictures posted of Babcock on Facebook.
UPDATE II: Babcock pleads guilty