An associate pastor and recording artist from South Carolina has been arrested after allegedly soliciting sex online from someone whom he believed to be a 13-year-old girl but was instead an undercover officer posing as one.
John David Helmuth, 44, of Pelzer was arrested on Tuesday in connection with the incident and charged with 10 counts of criminal solicitation of a minor and one count of attempted criminal sexual conduct with a minor.
Helmuth reportedly made contact with the undercover officer beginning on June 23rd and after chatting back and forth for some time, Helmuth arranged to meet "her" at a local park so that he could "kiss, hold, touch (her) all over and have sex."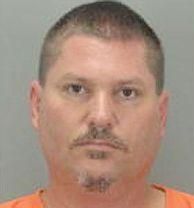 Awwww, isn't that sweet boys and girls? How nice. That good ol' Reverend Helmuth there for ya.

Anyway, the so-called pastor was arrested by police after he arrived (of course) at the park.

According to WFFY4, Helmuth was the associate pastor at Tabernacle of Faith in Piedmont and also lead singer of a Christian group called "Elias".
Bond was set at $100,000.
Thanks to a tipster for the above MySpace profiles and original article.