A 20-year-old California man has been arrested by police after allegedly killing a pastor and three other people in the small college town of Farmville, Virgina.
The suspect, Richard Alden Samuel McCroskey III, of Castro Valley, was taken into custody at the Richmond International Airport in Virgina sometime on Sunday morning after officers found him asleep in the baggage claim area.
McCroskey, an aspiring rapper in the so-called
horrorcore
genre, is accused in the slayings of Mark Niederbrock, a pastor at the Walker's Presbyterian Church in the Hixburg, Debra S. Kelley, an
associate professor
of Sociology & Criminal Justice at Longwood,, their daughter Emma Niederbrock and a friend of hers, Melanie Wells of Berryville, West Virigina.
Mark and Debra had reportedly been separated for at least a year but still remained friends.

Police believe McCroskey and Emma Niederbrock knew each other and that they were "romantically involved" as he had recently flown to meet the young 16-year-old.
He was slated to have been gone two weeks, according to his sister.
On one of McCroskey's 4 MySpace pages, Emma Niederbrock wrote several messages to him including the following dated on September 5th:
"Babyyy you leave TONIGHT!!!!!!!!!! :DDDD and then tomorrw i see youuuuu!!!!!!!!!! :x gahhh i cant [explicit deleted] wait<3333>
Investigators have not released a motive as of yet or how the slayings might or even when have taken place.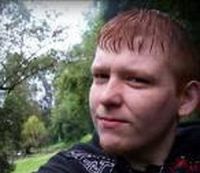 All four bodies however were discovered on Friday at the home of Debra Kelly after the mother of 18-year-old Melanie Wells called police twice asking them to check in on her daughter.

The day before, on her first request, police had visited the home and were greeted at the door by McCroskey who calmly told them that Wells was at the movies with a friend.

And 12 hours prior to that, police recalled ticketing him for driving the pastor's car without a license.

On the Internet and using the screename, "
samissyko
", McCroskey also maintained another profile on the popular site found
here
which is solely dedicated specifically for his style of music.
He created that site in March of this year using the name "
Sam Juggalo
".
A below Youtube video of of his room shot by himself is visible below.
As you can tell, our suspect really wasn't anything special at all, but just another sad twenty something white male from suburbia obsessed with some really crappy music and no goals whatsoever.
Why young females still fall victim to the badass mentality in the 21st century is beyond me. The only goal McCroskey could probably have ever achieved in his life was getting a nice single wide with some land and trees surrounded by it...maybe even by a creek or river in his mid 40's if he had worked hard enough.
Regardless, McCroskey's sister, Sarah, told the
AP
that their family was not a "Leave It To Beaver kind of family" and that his father had played guitar in a band called
S&M
, which pretty much confirms her story.
She also told the
San Francisco Chronicle
that he had dropped out of High School, because he was "always the kid that got picked on."
Anyway, according to the paper:
"Sarah McCroskey said she saw an interview after her brother's arrest in which he told a television reporter, "Jesus told me to do it." But she said it wasn't a sign of a psychotic break. "He's just a complete sarcastic -hole," she said. "That's just his sense of humor."
Nothing like having a sense of humor after brutally slaughtering four people, eh?
Both he and Sarah had also lived at home with their father after he and his wife recently separated.
She has released a statement on her own MySpace found
here
.
Richard McCroskey has since been charged with murder, robbery and grand larceny.

UPDATE
: Victim's died from head injuries