A 33-year-old Illinois man is currently residing at the Lake County jail in lieu of a $1,000,000 bond after
police have charged him with the rape of an 8-year-old girl
.
Cameron B. Flint, of Zion, was apprehended by investigators following a joint investigation which began when the child told police she had been raped three years ago.
After several weeks, a warrant was issued for Mr. Flint and during a subsequent search of his home detectives reportedly discovered video files of child pornography stored on his computer.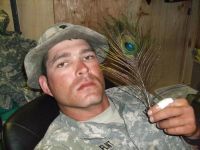 Flint, a divorced father of two and a member of the national guard, was
recently awarded the Army Achievement Medal
for an incident that occurred on March 31st, 2009 while serving in Afghanistan.
The investigation continues as more charges are now expected.