Suspect is mother of eight
:
UK--A 39-year-old Portsmouth mother of eight has been arrested on accusations that she sexually abused a child while taking pictures of the incident.
Tracy Lyons, who is also seven months pregnant, was arrested as part of an ongoing inquiry into a so-called Facebook pedophile ring which led to the previous conviction of Vanessa George, Colin Blanchard and Angela Allen.
George, who had abused the children at a Plymouth nursery where she worked, reportedly had traded the images with Blanchard and Allen.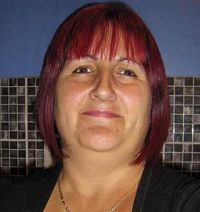 The images confiscated on the personal computer owned by George then led to the arrest of Lyons earlier this week, said police.

Lyons was also reportedly a volunteer at a private nursery called Izzies, located less than a mile from her home.

Her Facebook has since been taken down but her MySpace can still be found by clicking the above picture.
She also maintained an account on a chat site found here.
UPDATE: Lyons admits sex with toddler.