Mom could spend life in prison
:
A 29-year-old mother of three from Michigan has been arrested after police say she deliberately set fire to her home in order to kill two of her three children.
Sharon Hinojosa, of Huron Township, was arraigned on two counts of felony murder, two counts of second-degree murder and arson in connection with the October 9th fire that that destroyed her mobile home resulting in the deaths of her 4-year-old son, Anthony and 3-year-old daughter, Alayna.
Hinojosa however escaped the fiery blaze along with her 1-year old son, Aiden.
So why the murder charge then?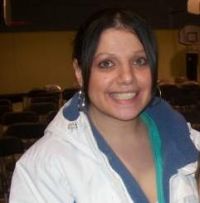 According to Wayne County Prosecutor Kym Worthy, Hinojosa intentionally left Anthony and Alayna inside the trailer to die because they belonged to a different father. She instead only took Aiden who is the son of her current boyfriend.

Hinojosa was not married at the time of the incident and was living with her boyfriend but was also engaged to him as well, according to her above MySpace.

Police say they had to visit the happy couple earlier in July after she called 911 and told them she had been pushed to the ground by him.

A neighbor who tried the rescue the children in the blaze said Hinojosa did not call for help until the fire was well under way.