A 25-year-old Wisconsin man was arrested last week at his home in which shares with his mother and step-father on numerous child pornography charges.
Jeremy Eckert, of Appleton, was taken into custody after allegedly admitting to investigators that he downloaded videos and pictures of children engaged in sex with both adults and animals.
Eckert reportedly used a p2p file sharing software to obtain the images and clips.
In one clip a 9-year-old little girl is tied up to a bed and forced to give oral sex to an adult male and a dog.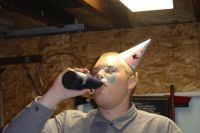 Eckert has been charged with 10 counts of possession of child pornography and 10 counts of sexual exploitation of a child.

The 16 page PDF Criminal Complaint file can be found here.