300 hundred CD's and several computers of possible child porn confiscated, say police
:
A 28-year-old Virgina man has posted the necessary $2,000 bond to be released from a county jail after being arrested on child pornography charges.
Darin Steele, of Bristol, is believed to have found a naked picture of a young boy, between the ages of 10 and 12, over the Internet and then allegedly sent it to a "friend" via e-mail.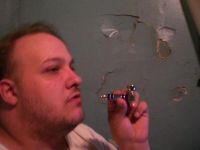 Investigators say they traced that activity to Steel's home and subsequently arrested him yesterday.
The self-proclaimed reefer loving witch quickly left his jail cell just only 30 minutes after being apprehended for child sex crimes.
Steel's Bebo can be found by clicking here and in case his above MySpace profile (click the picture) is deleted a Google cache can be found here.