Mark Kit Lucas, 47, of Pooler, was apprehended by authorities after the teen, now 19, told investigators that he had been sexually abused by Mr. Lucas in 2003.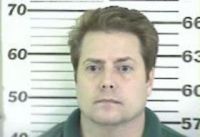 Lucas, who is married with children, was a language arts teacher at Savannah High School, in Savannah. He had also been a youth minister between 1997-2004 at the Woodlawn Baptist Church, in Georgia City.
The church had previously honored him with "
Mark Lucas Day
" in 2006 for 25 years of organ playing.