Kourtney Joy Babcock, often known online as "
luvplaymate
", "
kourtneyjb
", and now apparently "
iowagirl1990
" is back at her old sleazy habbits involving children, or so it would seem with her
recent slew of Facebook postings involving a toddler
uncovered by the great Rob Taylor over at
Red-Alerts
.
Babcock if you recall was the 19-year-old Iowa woman who had been arrested by police in September after she allegedly
performed multiple sex acts with two boys
, ages 12 and 13.
She at the time had been charged with three counts of third-degree sexual abuse.
After being questioned by authorities, the cookie dough loving
alleged
child rapist stated to investigators that she could not recall exactly what had transpired that night but was able to recollect kissing at least one of the boys
while under the influence of Oxycodone, Oxycontin and Alcohol
.
Mr. Taylor, who had befriended Babcock after the initial story broke in order to interview her via Facebook, apparently forgot to delete her as a friend and was thus able to post the following pictures on his blog: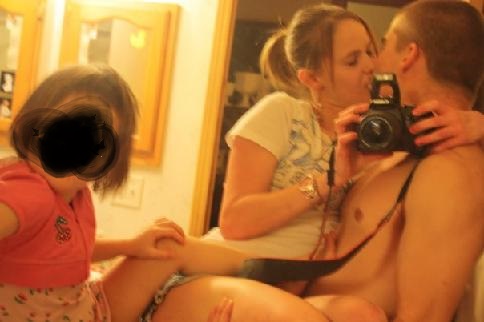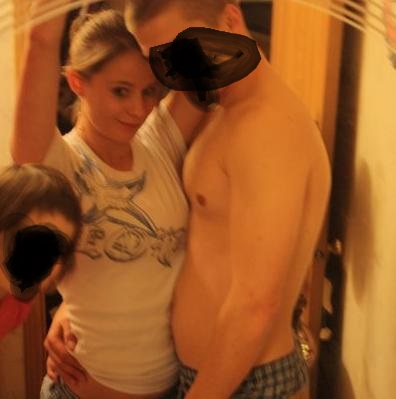 Absolutely mind boggling and at the same time bloody disgusting. It's also not exactly the smartest thing to do while out on a $30,000 bond for child rape charges.
The man in the picture is a recent boyfriend, aged 26, who recently started dating Babcock after she broke up with her ex-boyfriend for some time, if the Facebook stats are to be believed anyway.
The first picture is seriously more disturbing, with the little child's knee bent over Kourtney's and her foot touching the male while the two are kissing.
Her trial is less than a month away, January 5th to be precises. Not smart.
There is also a video posted of her on YouTube in which she is getting her lip pierced by a group of friends. If you listen closely around 3:11 you'll hear one of her friends "If you can get a 12-year-old to kiss and give you head", "We can get a twelve year old to kiss it and make it better" and then as the camera pulls back you can see a slight smile on Babcock's face as laughter ensues throughout the room.
I don't know, did I hear this right folks?
Anyway, for those who might have missed it, Babcock is currently once again on MySpace found here.