And two others
:
A New Jersey man who posed on MySpace as an MTV talent scout in order to rape a 12-year-old girl at a motel has pleaded guilty and now faces up to 10 years in prison after accepting a silly plea deal.
Prosecutors say Adonis Giron, 43, posed on the popular social networking site as a wealthy 26-year-old who was employed with MTV as a scout in New York City in order to sexually assault the child at the
Fountain Motel
in North Bergen.
Reviewers on Yahoo have either fairly or unfairly rated the motel as "dirty" and filled with roaches that people "rent for the hour" so one could probably argue that no one in his financial position would be staying there.
Regardless, the victim was only 12 and had "goals" of soon becoming a model one day, which Mr. MTV had promised her. I suppose being young and naive and raised by a parentless plastic society obsessed with self and celebrity went to the 43-year-old's run down little motel room and knocked on his door anyway.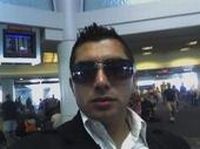 Sadly, it appears the only reason the Union City man may have accepted the plea deal was in part because other charges of molesting two other young victims, both 13, had been dropped in exchange for a guilty plea.
Giron's MySpace has since been deleted but I went ahead and archived it for public viewing anyway.
UPDATE
: Giron sentenced to 10 years.