A California man is currently facing murder and sexual assault charges after admitting to Nevada state police that he broke into a Las Vegas home and subsequently raped and murdered a woman.
According to a police report, Derrick Valentine, of Pasadena, admitted to breaking into the woman's home with the intention of engaging in a sexual act with the now deceased woman.
After the victim refused, Valentine reportedly forced himself on her and later began to choke her.
Reports state he later released her after she told him she needed a glass of water.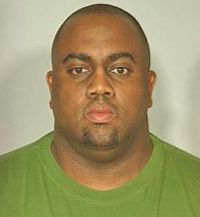 Obviously this wasn't the case as the unidentified woman then ran out of the room and into a garage thus tripping an alarm.

According to the Las Vegas Sun:

"In the report, Valentine said he "knew when she ran he would have to kill her in order to stop her from calling the police."
After making up a story to skeptic detectives, Valentine reportedly then confessed:
"When pressed by detectives, the story changed and in the report Valentine admitted to the killing. Police said he also tried to clean up blood around the house with cleaning products and when that didn't work he drank some of the products in a failed suicide attempt."
The assault and subsequent murder is being called a case of domestic violence, say police.
Valentine is now facing murder and sexual assault charges in relation to the incident and the once aspiring actor (see above MySpace) is currently being held without bail.
UPDATE
: Victim identified as Melodie Walker, profiles link each other.