Louisiana--A 25-year-old Jennings man is currently behind bars after being
accused of molesting a little 5-year-old girl
.
Jonathan S. Oliver was apprehend by authorities after the child reportedly told "school officials" she had been sexually abused.
Employees at the school then called the Department of Social Services who later contacted police who in turn questioned and subsequently arrested Mr. Oliver.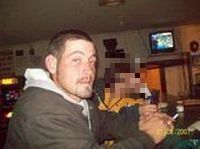 On his above MySpace profile, the "proud parent" (*psychowhiteboy*), appears to be suffering from some sort of small town depression as he had been having goals one day of ultimately leaving the area in which had grown up.
However, the area or town of Jennings have adamantly refused the twentysomething's request and in so doing have kindly built a jail in hopes that Mr. Oliver can dream off this ever pestering nightmare of his.
A friendly gesture if you ask me...