A New Mexico man is behind bars today after police say he severely beat his girlfriend after consuming alcoholic beverages at a friend's house.
According to CBS affiliate KRQE
, Jorge Armendariz, of Albuquerque, got enraged after his girlfriend had confronted him about talking to various women on MySpace.
How enraged? Well after a short while, the intoxicated "proud parent" beat the hell out of the unidentified victim and subsequently threw her out of his speeding truck going around 40 mph.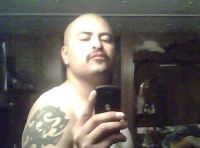 I suppose then the argument had taken place inside the vehicle after the two drove off from the house.
Anyway, police say they arrested Armendariz following a short pursuit when he reportedly tried to go back to the scene to beat her yet once again.
The 29-year-old denies the accusations but an officer who took him to jail recalled him saying he was going to kill her.