North Carolina--A 26-year-old woman from Fayetteville has been arrested after she allegedly engaged in sexual activity with a 15-year-old boy in 2009.
According to
The Fayetteville Observer
, Julie Michele Livingston walked into a police office and filed a report stating that a 15-year-old male had raped her sometime on October 27th.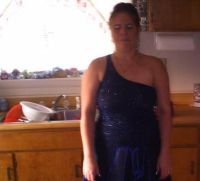 An investigation was later conducted by police and after doing some digging they subsequently arrested and charged Livingston with statutory rape, indecent liberties with a child & filing a false police report.
I'm guessing that our suspect had learned somehow that our victim would go to the police and suddenly panicked. She had a lot to lose after all. Trying to gain the upper hand, Livingston entered the police station and filed that report.
Whatever actually happened though it didn't work out for her, however in the dirty sink woman's favor bail was set at an extremely small $5,000.