Girl's parents contacted authorities
:
A 19-year-old North Carolina man has been arrested by police who say he showed up at the home of a 13-year-old girl after engaging inappropriate contact with her over MySpace.
James Patrick Hartzog, of Brevard, was charged with sexual exploitation of a child and enticing a child for indecent purposes.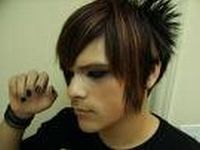 Detectives were inside the girl's home waiting for Hartzog who reportedly showed up around 9:15 p.m on Saturday.
Another profile of Mr. Hartzog can also be found on Facebook here.