A teenager from Texas was arrested by police after they say he hired a fellow classmate to murder his own mother.
17-year-old
Danish Moazzam Minhas
stated that on or around November 25th he came home after an all night party and discovered the dead body of his mom, 43-year-old Tabassum Khan.
Distraught, the young teen quickly called police and was quite conveying on the other line and so subsequently the concerned officials arrived not so long thereafter at an apartment in the crime-ridden city of Houston.
However it didn't matter...for Khan was not only obviously bloody but also clearly dead.
After adequate time, officer's in the case questioned the deceased woman's son who in turn told them that a mysterious killer had somehow entered their personal residence and surprised his then joyous mother.
Apparently she had been anticipating the upcoming
Eid al-Adha,
a sacred Muslim holiday.
According to
The Houston Chronicle
police had a hunch that the
Lee High School
student was not exactly telling the truth and after awhile collected evidence (i.e.
finger prints
) inside the apartment that matched an 18-year-old male identified as
Nur J. Mohamed
, of Somalia.
Both of them interestingly attended the same High School in Houston.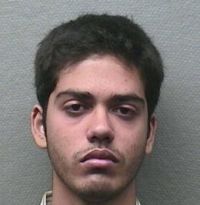 According to detectives, Minhas hired Mohamed and acted as a lookout while he repeatedly stabbed to death his mother.
He is at the very least definitely one self-centered egotistical bastard.
See below...
On his "About Me" portion of his profile on above MySpace, Minhas describes himself as some sort of hero who wrote the following:
"Yo, it's Danish. Well there's a lot of stuff that you about me! First things first, i love to talk, i'm very loud, friends call me concieded(it's not conceided if it is true.), I am the center of attention all ways!.=) I like to make people laugh. I'm very very straight forward, if I don't like something about you, I'll tell it your face, but I also do help people out too. You would never see me get mad or angry..like never! I'm always smiling, but when it does happen, you know shit is about to go down! I'd have to be realy pissed for it to show.Friends call me Tic-Toc, Kaboom, Jorje El-Bombardero, Dash, Pastry, etc. To that special girl, "I'll have you smiling even when the sky is gray." :) I'm going to be here to treat you like a princess, you won't forget any second we're together, and you'll never ever have to cry again. You'd be on top of the world, when you're around me. My first priority. So if you're out there, holla! I like to know everyone, my goal by the time when I graduate is that; when I walk, I want everyone to get up for me, and clap."
He then goes on and on endlessly about how
his
Facebook describes
him
:
"You have an outgoing personality. You tend to take risks. You feed on attention. You generally have no self control. You are kind hearted, self confident, loud and boisterous. You are VERY revengeful. You're easy to get along with and easy to talk to. You have an 'everything's peachy' attitude. You like talking and singing but you absolutely love music. You're a daydreamer so you're easily distracted. You hate not being trusted. You have a BIG imagination. You love to be loved."
Interestingly just a week before Kahn's murder he described his mood as:
"It's all good..waiting for things to happen."

Waiting for things to happen eh' Mr. Minhas?
Hmmm...
Anyway, a Facebook page created by the good lad can be found by clicking
here
.
It should also be noted that it was Khan who was the real hero of the family and up until her death had been working 14 hours every day just to support and feed her future killer/son.
UPDATE
: Suspect reportedly wanted sister, Kashmaila, dead as well.