Incident reportedly stemmed from argument over cigarettes
:
Police in the state of Florida say with a little help from her 15-year-old boyfriend an 11-year-old girl almost killed her own mother by pouring gasoline in the bedroom where she slept and then used a match or a lighter to ignite the blaze.
The two then quickly left her to die a very painful death as they fled from the scene via mom's 2007 Ford Focus.
Luckily though, a smoke alarm awoke the sleepy woman and both firefighters & medics quickly arrived at 1580 Huntington Lane in Clearwater to put the fire out.
The victim, identified as 48-year-old Nancy Boardhead, was taken to the Tampa General Hospital with serious injuries. She has since been released.
The suspects in the case,
Samantha Broadhead
and
Jack Ault
have both been charged with attempted homicide and arson resulting in injury from the incident which took place on December 29th.
According to the
St. Petersburg Times
, Clearwater police have responded to at least seven different calls within the past year alone at the Boardhead home. However, Samantha has never been arrested as a result of any of the calls.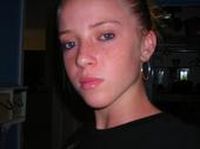 The Times also digs extensively into Nancy's own past, who according to court documents, spent some time in detox clinic, once dated a Klu Klux Clan member and was even caught driving around while intoxicated with a then 4-year-old Samantha.
Meanwhile,
Jack Ault is no little angel either
as the 15-year-old has been arrested at least five times in 2009. His earliest arrest dates back to 2003 which would put him around the age of 9 or 10.
I didn't even know of this story until I went over to
Red-Alerts
and read the most recent link-round up...so hats off to Rob for the story.
Anyway, Samantha's MySpace profile has since been deleted, but I went ahead and archived it anyway for public viewing. Her profile bares striking resemblance to some of our other daughter/boyfriend duo's who attempt and sometimes succeed in killing their parent(s):
Danielle Black & Alec Eger