A Tennessee man who worked at the
Middle Tennessee YMCA
as a site manager has been charged in what investigators are calling an international child pornography case.

Daniel Quail, of Gallatin, was taken into custody last week after Canadian authorities contacted American authorities regarding an individual downloading and sharing child pornography over a p2p network.
According to the
Nashville City Paper
:
"On Dec. 15, Canadian police downloaded 25 images from Quail's shared directories, including "images of young males who appear to be under the age of 12 engaged in sexually explicit conduct," according to the affidavit."
He has since been suspended from the YMCA pending the investigation.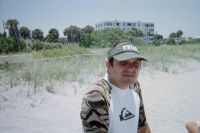 Quail's above MySpace profile states that he had been working with the YMCA in some fashion since 1998 although an
online ad placed by him
suggest it may have been longer than that.
In addition to those he was a
member of Praize.com
too, but hasn't logged into that site since 2004.
UPDATE
: Quail may have molested at least two victims and was also activity trying to adopt 6-year-old attached. A PDF affidavit can also be downloaded
here
.
UPDATE II
: More than 5,000 images and 500 videos recovered thus far.
UPDATE III: I did already come across the following article once before and neglected to post it. Since it's just been
recently mentioned in the news
I'll go ahead and link it for curious readers.
It's an interview Dan gave to The Herald Tribune in Sarasota last year:
UPDATE IV
: Strange obsession with boy Quail used to work with, contacted him frequently using MySpace.
UPDATE V: I believe I may have traced a username Quail used to place an online gay sex ad while living in the Venice area. Obviously, I will not be linking it as it would be both inappropriate and cannot verify 100% indeed that it was Mr. Quail who had placed the ad.
I will say the ad referenced the user having a son and furthermore back traces the ID as: "Dev the Dude"...a slight variation of the child's name who investigators say was obsessed with (see above).