A 20-year-old man from Ohio has been charged with the rape of a 5-year-old girl.
Corey Bason, of Loraine, was apprehended by authorities after the child's 21-year-old mother contacted police that her daughter had been molested.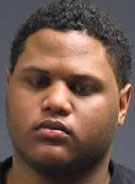 According to The Morning Journal:

"The girl told the mom that Bason pulled her pants down and performed a sexual act. When confronted, Bason denied it and blamed it on another man who was also in the house when it happened, the report stated."
Bond has been set at $1 million for Mr. Bason who has since pleaded not guilty.