A 28-year-old Minnesota man has been charged with
raping an intoxicated man and knowingly spreading HIV
, the virus that causes AIDS.
Daniel James Rick
, of Minneapolis, is accused of using websites and various establishments throughout the area to pick up homosexual men for the purpose of engaging in sexual activity.
Investigators say on the night of February 5th, Rick raped a severely intoxicated man after picking him up at a local gay bar in Minneapolis. The alleged victim told detectives that he was
passed out at the time of the assault
.
The self-proclaimed dog groomer and rabbit breeder is also accused of sexually assaulting a 15-year-old boy late last year. He has been charged with criminal sexual conduct with a minor in that case.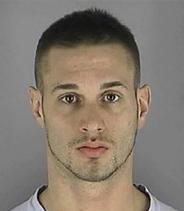 Rick's username, "skyfire2be", is pretty much all around the web advertising for various roommates as well as placing gay sexual encounter ads online. He had also used "D.J. Smith" as an alias on several accounts.
Because of some of the content, I will not be linking the sites Mr. Rick had posted on.
A Facebook account created by him can be found by clicking
here
.
While Mr. Rick allegedly did not inform his partners that he had carried the disease, it should be worth noting that he did however post a profile on a dating site for individuals who are HIV positive.