An Oregon couple have been arrested after they admitted to police that they sexually assaulted and then photographed two of their own children, according to a report by
OregonLive.com
.
Apparently, Mr. Worley had been sending some images to Mr. Marceau's e-mail address...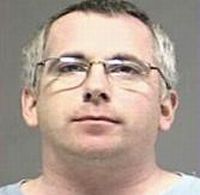 MySpace profile of Michael Marceau
When investigators questioned both Marceau and Ford they abruptly stated that they both had taken an active interest in child pornography.
Upon further questioning, the couple then admitted that they also had been making their own kiddy porn pictures to add to their collection.
The alleged photos in question were reportedly of themselves molesting two of Ford's own children that were ultimately uploaded on their personal computer and saved for future viewing, among other things.
One of the victims, a male, is unable to move and suffers from both cerebral palsy and epilepsy. He is also mentally handicapped and is currently on a respirator.
The other victim, identified only as a "little girl", was assaulted by the good mother and stepfather but only because she wanted to try it.
The children have since been taken into protective custody.
Besides the above MySpace profiles, a page operated by Marceau for his catering business can be found on the social networking website LinkedIn found
here
.