A California man was arrested earlier this week on child pornography charges after he sent a 15-year-old girl he met over the Internet a digital camera so she could take sexually explicit pictures of herself and send them to him.
Brian Robert Garrett, 25, of Turlock, had allegedly posed online as a female in order to befriend the young teen. The victim was then suppose to take sexually related pictures of herself so the fake female (that Garrett created) could subsequently show the pictures to a fake cousin.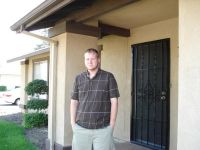 And according to the Wisconsin Rapids Daily Tribune:

"Garrett asked the girl to send him sexually explicit photos and she complied, Berres said. He requested more photos and when she said no, he threatened to post the ones he already had on the Internet. When the girl told Garrett she broke her camera, he sent her a new one by overnight express delivery."
Investigators fear Garrett may have also been communicating with girls from all over the country.
On his above MySpace profile, Brian writes that he's a "good guy" who's just trying to make people happy and urges people to get to know him.
Now the whole world knows just how nice of a guy Brian Garrett really is.
And we didn't even have to get to know him...

Thanks Brian!