A Florida music teacher for the
Royal Child Academy
in Summerfield has been charged with 18 counts of criminal acts involving children, including four counts of lewd and lascivious molestation, one count of lewd and lascivious conduct, 12 counts of lewd and lascivious exhibition and one count of child abuse.
Police believe between early 2009 and 2010,
David Solomon Lanham
, of Ocala, had kissed, fondled, shoved to the ground and sexually assaulted at least four different children between the ages of 5 and 11.
According to the Ocala Star-Banner
, the 29-year-old is also a "worship leader" at the
Open Door Community Church
, where the school is located.
The investigation began on March 13th, when parents of one of the victims contacted police after their child had told them that Lanham had touched his "private area".
Lanham is also accused of kissing another young boy and making him touch his (Lanham's) genital area as well as performing a sexual act on an 11-year-old in a bathroom while attending a summer camp.
That child also claims he was molested at the school.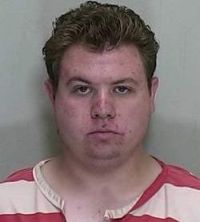 A short biography of Mr. Lanham on the church website reads the following:

David has been involved in music at a very young age. David came from a very musical family. At age 4 David asked his mom to teach him piano. David learned his first song that day. It sparked something inside David and he craved music. David has taken many years of piano and after he graduated high school he served as a pianist for three years at Chili's After School Coral at "Colinas Del Norte Elementary School in Rio Rancho, New Mexico. Since moving to Florida David has been serving as a pianist and worship director for Open Door Community Church as well he is involved in a community choir called "United in Praise".
Some members of the church reportedly also heard rumors about Lanham and young boys but unfortunately brushed it off as nothing more than just mere rumors.
The abuse is also believed to have begun as early as January of 2009.
He now resides at the Marion County Jail.
On his above MySpace profile, Laham appears to operate his own business, "D.L. Productions" and on
this
site writes that he does video production for a living. He also has a private Facebook found
here
.