A Tennessee man was arrested Sunday morning on statutory rape and sexual exploitation charges after he admitted to police that
he engaged in sexual activity with a 15-year-old girl he had met using MySpace
.
David Mark Leleaux, 24, Chattanooga, was apprehended after deputies approached a parked vehicle around 5:30 a.m. and found Leleaux inside it.
Leleaux reportedly told police that he was in the area to visit his cousin but a further investigation revealed that he was there to meet a minor that he had been conversing with on MySpace.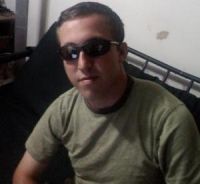 Both the girl and Leleaux later admitted during separate interviews that they had previously engaged in sexual activity.
On his above MySpace profile, Mr. Leleaux writes that he's a "christian guy" looking for a "good Christian girl".
A Facebook account operated by the suspect can also be found by clicking
here
.