A 28-year-old man from Ohio has been arrested after officers say he engaged in sexual activity with an Alabama girl.
Police say, Matthew Brandon Rogers, of Cincinnati, was apprehended after the 14-year-old's mother found him inside her daughter's Tuscaloosa bedroom sometime on Sunday.
The mother, after hearing noises from her daughter's bedroom, reportedly went upstairs and found the suspect in her house.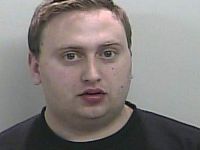 I guess at some point she then held Rogers at gunpoint while dialing 911, according to the Tuscaloosa News website.
The self-proclaimed Christian (see above MySpace) is said to have met the victim sometime last month while chatting with her in an online chat room.
Bail was set at $66,000.