Colorado--
Following the post by Katze
regarding Midwestern gangsta wannabe "
y0uNg $av@Ge
", comes another
twentysomething
white male raised in part by Hollywood and Time Warner, "
SlimThug038
" or as he is recognized in the so-called real life;
Michael Bruce Shaw
.
"According to a Garfield County Sheriff's Office news release, the investigation began March 6, when a Park County Sheriff's Office detective covering Internet crimes against children observed several files being offered from a specific Internet Protocol (IP) address in Glenwood Springs. From this IP address, the detective downloaded 25 images containing sexually explicit material involving children under the age of 18 years old."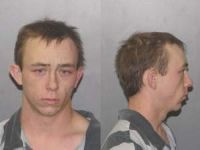 Then on March 25th, detectives executed a search warrant at his grandmother's residence where Shaw reportedly lives.
It was there they recovered at least 3 computers but quickly (or is that obviously?) were able to narrow it down to just the 22-year-old residing there:
"The Sheriff's Office news release said investigators recovered at least 50 images from the computer's hard drive that depicted children under the age of 18 engaged in, observing or being used for explicit sexual conduct."
On his above MySpace account, Shaw claims to be an engaged "proud parent" and although he did "grauate" High School with 3.8 GPA, writes that's he's really getting tired of "those girls who are just in it for the money".
What money would that be Mr. Shaw?
Oh, the glamor of it all!
For Mr. Shaw at least he finally got that mug shot out there by police, now I guess he really intends to prove to all his future "bitches" and "hoes" what a badass with a record is really like!
Too bad for him it's on kiddy porn charges...