A 50-year-old Texas man working as a Youth Minister for a local church has been arrested for aggravated sexual assault of a child.
Dwight Leonard Bullock, of Jasper, was apprehended by authorities following
telephone calls from multiple parents
who had told them that their children might have been possibly molested by the youth minister employed by the Moore Chapel CME Church.
After the alleged victims were examined, police powered with a search warrant; went to his home where they reportedly discovered various pictures of children being sexually abused by Bullock on his personal computer.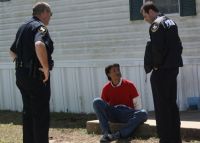 They also state they recovered Marijuana at home in Jasper, which might explain why he was charged with aggravated sexual assault.
Besides the above MySpace profile, a personal website owned by Mr. Bullock can also be found by clicking
here
.
Bullock had also been a government employee with the Texas Department of Human Services in order to study a drainage issue
according to KJAS Radio
.