Alabama--At only 30 a decorated army sergeant has been arrested by police on
36 counts of possession of child pornography charges
.
Dustin Hogan, originally of Flora, Illinois, was taken into custody after officers say they discovered pictures and videos of him
sexually assaulting two young girls
only 8 and 9.
The content discovered on his personal computer were so disturbing that detectives in the case were quoted as saying they were "
the worst images they've seen in law enforcement
" apparently the judge in the case took their word on that and subsequently set bond at over 5 million dollars.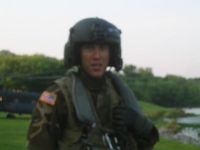 Investigators also found marijuana, drug paraphernalia, a controlled substance and a pair of night vision goggles valued at $7,000 at his residence in New Brockton that had been recently stolen from a helicopter crash.
Hogan has also been charged with the arson following an incident in jail when he reportedly
asked his mother to burn down his home
in order to presumably destroy any evidence of the alleged crimes.