A 30-year-old New Mexico woman has been arrested for the murder of a 52-year-old man.
Angela Sanford
, of Albuquerque, is
accused of using a Wiccan Dagger to stab Joel Leyva 13 times
near a popular hiking trail in the foothills of the Sandia Mountains sometime on Monday evening.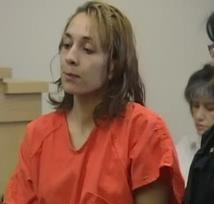 Police say the two had met about a week earlier at a local area casino and exchanged phone numbers. Later, it is alleged that Sanford invited Mr. Leyva to celebrate a Wiccan ritual for spring.

When confronted by police, Sanford told them that she had been raped by the victim but a further investigation revealed that the incident did not happen.
UPDATE: Sanford listed Leyva as "sacrifice" in cell