A 15-year-old Ohio teenager had entered has entered a not guilty plea following his arrest for the alleged rape of a 26-year-old woman on a busy sidewalk in broad daylight.
Anferney Fontenet
, of Toledo, has been charged with rape and aggravated robbery after approaching the bi-polar woman near a local library with a knife on January 19th of this year.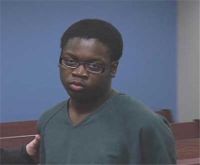 Fontenet, who also has another MySpace account found here, is quoted during an interview by police as saying:


"I walked up behind a girl, grabbed her neck, raped her, and took her phone."
He faces up to 20 years if convicted on all charges.