Intoxicated suspect killed Mother & Daughter with car on Easter Sunday
:
Texas--A 30-year-old man who had previously been convicted three times on DWI charges, has now been arrested for two counts of murder after killing two people with his car early Easter Sunday morning.
A heavily intoxicated
John Patrick Barton
, of Lewisville, allegedly drove his wife's 2010 Mazda into a 2009 Nissan Sentra along I-35E north of State Highway 121, killing 33-year-old Kandace Hull and her 13-year-old daughter, Autumn.
The crash, which was so severe that it had reportedly pushed the trunk area of the Nissan into the passenger compartment, also injured Hull's husband and their 16-year-old daughter and 12-year-old son.
From
WFAA-TV
:
"Witness accounts stated that vehicle was traveling at a high rate of speed, attempted to change lanes into the middle lane, and struck the Nissan in the rear, causing both vehicles to spin," said Lewisville police spokesman Lt. Kendall Lynn. "Both vehicles traveled quite a distance before they came to rest."
According to the Star-Telegram
, Barton's first DWI arrest took place back in 1997 when he was just 17, a second conviction took place in August 2001 and he was then placed on parole in 2009 following his third DWI conviction stemming from an incident in 2006.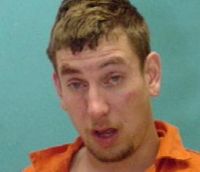 Besides his above MySpace profile, Barton also maintained accounts on Twitter, LinkedIn and Friendster.

His once active Facebook looks to have since been deleted.

Although none of that really matters, since he can pretty be found anywhere online using the screen names, "biot3ch" & "biojohn316".

In a somewhat eerie coincidence, Mr. Barton posted the following video on his YouTube account some 3 years ago: