Texas--A 24-year-old man could face up 20 years in prison after
pleading guilty to uploading child pornography on his MySpace account
.
Travis Adam Whiddon
, of Monahans, told detectives that he had been collecting kiddy porn since he was 15-years-old.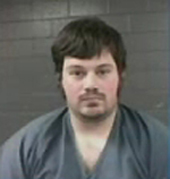 Whiddon, who used to live in an apartment next to a local elementary school, reportedly amassed at least 1,376 videos and images of children and many of them less than 12 years of age.
MySpace notified the NCMEC after discovering the uploads in 2009.