Oklahoma state police have arrested a Broken Arrow man on charges that he kidnapped a 5-year-old girl from her own home and violently raped her in a small rural area.
Douglas Harold Polk
, 32, reportedly
confessed to police
that on the evening of September 20th, of 2007 he abducted the child from her front yard, took her roughly 8 miles away and then assaulted her.
Less than an hour later, a neighbor spotted the victim
walking naked and bleeding
along a small dirt road.
The incident led to more than 1,600 tips but an arrest was never made even though Polk himself was a possible suspect at the time.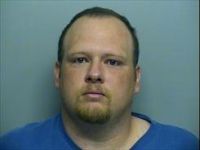 A break came following his arrest for violating a protective order (filed just hours before) after his wife accused of him of raping and beating her.
Polk already had previous convictions for assault including an incident in which he ran over a man with his car.

The father of four was quickly found by officers hiding in a shed minutes later.

Police later interviewed Polk who not only confessed to abducting and raping the girl but also admitting to raping a 7-year-old girl who is said to be a relative.

A Facebook account created by the suspect can also be found by clicking here.
UPDATE: MySpace now archived.