A 28-year-old Massachusetts man (or 25 according to his MySpace) was arrested earlier this week after police say he traveled to the state of Florida to have sex with a 15-year-old girl he had been corresponding with over the once dominant social networking website.
Benjamin J. Neff
, of Pittsfield, reportedly took his vacation time from
Big Y Goods
where he is listed as a grocery clerk (although he claims to be a manager) and reportedly had spent more than $1,600 for a round-trip plane ticket and a 12-night stay in city of Port St. Lucie where the girl currently resides.
According The Ft. Pierce Tribune
:
"Police apparently learned of the situation Monday after a person called 911 and said a 15-year-old friend met a 28-year-old man on MySpace.com and that he arrived from out of state to have sex."
Neff, who had met the teen a year prior, told police that simple online chats between the two later evolved to online sex using an unnamed video chat website.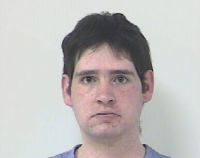 When police arrived at his hotel they reportedly found a box of condoms but discovered one was missing, when they questioned Neff he reportedly stated to them that "he tried one on to see if it fit".

The girl, who also confirmed the relationship, told detectives they had previously talked about having sex once he traveled to Port St. Lucie on Easter Sunday.
On his above profile, Neff had obviously been anticipating this upcoming trip, writing:
"O_o happy for once...cant wait for my trip to florida"
Neff is now currently in jail and faces a felony charge of traveling to have sex with a minor.