A Mississippi man has been arrested after investigators say they
discovered child pornography
on his home computer.
Stephen Vail Schubring
, of Pass Christian, was taken into custody last week after a quick examination of his hard drive allegedly revealed pictures of children engaged in sexual activity.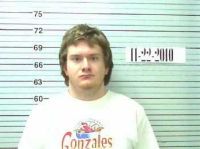 The 21-year-old grocery store worker (see Facebook here) could face more charges after a complete inspection of his computer is finished.

According to WLOX-TV, Mr. Schubring is currently in jail awaiting a $50,000 bond.