A 28-year-old Florida man has been
sentenced to 25 years
after pleading guilty to production of child pornography.
Aaron Christopher Dawkins
, of Shalimar, had initially been taken into custody earlier this summer after a search warrant revealed
pictures of himself sexually assaulting a 2-year-old
.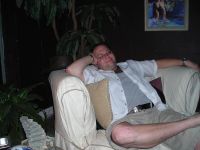 Investigators say they had been tracking Dawkins since 2008 who is said to have had thousands of images and videos of children on his computer and other electronic devices.

An undercover Canadian police officer had tipped U.S. police to Dawkins activity.
Besides the above MySpace profile, Dawkins also maintained accounts on both Twitter and Facebook as well. 

Dawkins conviction reminds me of a recent great piece written by Rob Taylor over at the NewsReal Blog in which he takes on a University of Hawaii researcher who makes a disturbing claim that the legalization of child pornography could somehow be beneficial to society.

Of course, don't tell that to the family of the 2-year-old who was raped by the "collector"...