California--A 20-year-old Atascadero man has been arrested for the
double murder of two women
on Christmas day.
The suspect,
Andrew Wesley Downs
, is alleged to have shot and killed sisters Beverly Reilly, 64 and Kathy Yeager, 61 who were said to be visiting relatives on the Santa Margarita Ranch.
According to report by KSBY
:
"When another relative entered the home and saw what had happened, he took off running. Downs then got in a truck and started chasing after him. After getting the truck stuck in the mud, Downs took another vehicle, approached at least two other homes, attacked another person, and was eventually subdued by a victim and his son until police got there."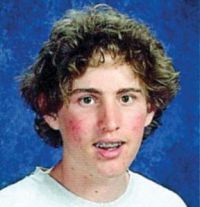 Downs, who is believed to have been diagnosed with schizophrenia while attending Atascadero High School, had reportedly tried to attack one would-be victim with a pipe wrench.

As already mentioned, that didn't work out so well as the people in the home were able to subdue him and quickly called police around 3 a.m on the 26th.

Prior to his arrest, Downs had been placed on probation until 2013 for stealing his father's car.

He is now currently residing at the San Luis Obispo County Jail without bail on charges of murder, attempted murder, burglary and assault.