A 32-year-old Pennsylvania man has been arrested by police after they reportedly discovered pictures of himself
sexually abusing three young girls
.
The suspect,
Mark Anthony Permenter
, faces multiple charges including rape following an ongoing investigation into his personal computer after sending some of the photos to an undercover postal inspector.
The victims are said to be two 3-year-old girls and a 4-year-old girl as well.
Permenter is accused of photographing himself abusing the young children at his home in
Camp Hill
while babysitting them.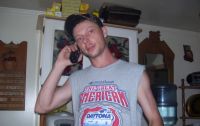 Investigators say Mr. Permenter who has
plead not guilty
, has since admitted to many of the accusations, according to a criminal complaint.
Permenter has since been charged with Rape, Involuntary Deviate Sexual Intercourse, Aggravated Indecent Assault, Statutory Sexual Assault. Indecent Assault, Corruption of Minors, and Indecent Exposure.
While I will not be linking the site, Mr. Permenter's online activity can be traced to a notorious website that is often used to trade images of child pornography.
Permenter used the screen name "themack" to post pictures and make comments as early as two months ago.
Besides his two private MySpace profiles found
here
and
here
, Mr. Permenter can also be found on Facebook by clicking
here
.
About the only profile made viewable to the public with any information (that can be shared) is probably his account over on
webshots
.