A 37-year-old New York man has been arrested after allegedly admitting to investigators that he used his computer to trade child pornography with others over the Internet.
Chad A. Salvatore
, a bank vice president, active volunteer in various foreign exchange student programs and self-proclaimed founder of a
non-profit dog rescue program
was apprehended over the weekend by agents working with the Department of Homeland Security.
Salvatore, who lives with his homosexual partner in Alden and is believed to have taken steps to adopt a 13-year-old boy, had a youthful-offender record from an incident in which he molested three children, one of whom was eleven at the time.
The then 17-year-old Salvatore was put on 5 years probation,
according to the Buffalo News
.
The DHS alleges that Salvatore used the the screen name"pervforlil12" to trade the videos over the Internet.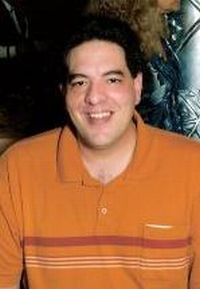 One of the videos is said to be of an infant being molested while another shows a young boy being gang-raped by several adult males.

On the web, a user who identifies himself as "pervforlil12" wrote earlier this year on a gay adult themed site the following:

"im into hearing about true stories of guys who started young with their dads or other family.... like to hear about guys real stories with younger.... i like yngr myself...."
The user then continues:
"looking for guys in western new york state with yngr or dad/son access... where u all hiding ?".
The individual behind "pervforlil12" also used his e-mail address to create the alias "Joshua Janczek" on a popular website.
Besides the above MySpace profile, Mr. Salvatore also maintained an account on Facebook found
here
.
UPDATE
: Salvatore pleads guilty.